November 11, 2013 | Posted in Maple Leafs | By J. Hawthorne
Comments Off on Canadian Gold Maple Leafs vs American Gold Eagles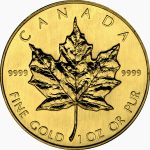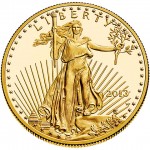 Both the Maple Leaf and American Eagle are among the most widely traded gold bullion coins in the world. You can't go wrong with either. Subtle differences based on preference and objective criteria may direct you towards one over the other.
The first and arguably most significant difference is purity. The Maple Leaf is .9999 pure gold, while the Eagle is .9167 and is the equivalent of 22kt gold.
On paper this makes the maple leaf appear to be the clear winner but purer isn't always better depending on your preferences. The Maple Leaf is more prone to wear during handling because nearly solid gold is soft as metals go. This shouldn't be an issue for most however because there is no reason to be handling bullion coins in the first place. If you wish to admire the design put it in coin capsule.
Although popular worldwide, clearly the American Eagle has a slight edge on U.S. soil when it comes to trading and desirability. The same is true of the Maple Leaf on Canadian soil. Internationally it's extremely close although the Maple Leaf may be a touch better.
Premiums over spot will also very depending on your location. The difference may seem negligible but in finance every dollar counts, especially if you buy in one part of the world and sell in another.
American Gold Eagle Facts
This coin features the same stunning figure of Liberty as the Saint-Gaudens double eagle. Miley Busiek created the reverse design of a soaring eagle in 1986; the same year the American Gold Eagle was introduced.
Face value: $50 USD
Purity: .9167
Mass: 33.930 g (1.0909 troy oz)
Diameter: 32.70 mm
Edge: Reeded
Canadian Gold Maple Leaf Facts
The reverse of the Maple Leaf was designed and first released in 1979. Obverse portrait of Queen Elizabeth II is consistent with current Canadian coinage.
Face value: $50.00 CAD
Purity: .9999
Mass: 31.1035 g (1 troy oz)
Diameter: 30.00 mm
Edge: Serrated
August 15, 2013 | Posted in Gold | By J. Hawthorne
Comments Off on Ron Paul on Gold Prices vs. U.S. Dollar
Former Congressman Ron Paul expresses his view that gold prices are a reflection of the state of the U.S. dollar.
Not surprisingly Ben Bernanke further mystifies the issue by stating that nobody understands exactly how gold prices are formulated.
Although Bernanke is right when looking at short-term fluctuations, from a bird's eye view he isn't telling the full story. Paul rightfully points out that gold is a good long-term identifier of the value of a currency.
In theory gold's value never changes in comparison to the goods and services you can buy with it. So for example a quarter from 1964 or earlier would buy you roughly a gallon of gas. Being composed of precious silver and copper, that same quarter will buy you a gallon of gas today. If you're still skeptical or curious, this video explains why precious metal is a true store of value in much greater detail.
August 14, 2013 | Posted in Gold | By J. Hawthorne
Comments Off on Gold Crash of 2013: Disaster or Opportunity?
Today Bloomberg posted an infographic outlining the recent sharp decline in gold prices and it's negative effects.
It opens with the following blurb, perfectly crafted to pull at heartstrings:
Gold's swift fall has ravaged hopes and livelihoods around the world – from the 1 million miners in Ghana who scour in the dirt, to thousands of executives and geologists at mining exploration firms that are running out of cash in Vancouver. Gone too are jobs for auditors, bankers and analysts in the finance capitals of Toronto and London. Investors who bet big and lost are shifting assets elsewhere and scaling back retirement plans.
Investors that focus on the doom and gloom here are the exactly the crowd who were hit hardest by the drop. Not only does this segment buy into the hype with vigor, but also approach investing like gamblers by attempting to beat the market.
When soaring gold prices were a hot topic in the media they bought it up, quite literally, abandoning the most basic principal of "buy low, sell high." It's all too often overcome by base inclination to side with perceived success, since "everybody loves a winner."
A prudent, long-term investor shouldn't be fazed by this shift. These types invest in precious metals, index funds, etc. at steady intervals, stay objective amidst turmoil, and most importantly don't try to beat the market.
If anything these new, lower gold prices allow the new, or long-term investor to amass gold without breaking the bank.
Now that we've entered the bear market before long we won't be hearing so much about gold and how affordable it has become. And that's exactly how the smart money lurking in the shadows behind talking heads wants it.
August 6, 2013 | Posted in Maple Leafs | By J. Hawthorne
Comments Off on Why is the Canadian Gold Maple Leaf so Popular?
According to the 'APMEX Top 40' products, the Maple Leaf ranks right up with there with bullion staples such as the American Eagle, Buffalo, and South African Krugerrand.
Ignoring fractional coins and getting to the heart of which basic types are most commonly bought and sold at APMEX, we're left with the following list:
Gold American Eagle
Gold (American) Buffalo
Gold Canadian Maple Leaf
Gold South African Krugerrand
Gold Austrian Philharmonic
Australian Gold Kangaroo
Gold Austrian/Hungarian 100 Corona AGW .9802
Gold French 20 Franc Rooster AGW .1867
Gold Swiss 20 Franc AGW .1867
Gold British Sovereign AGW .2354
So how has the Maple Leaf managed to keep its position near the top, just under the US Mint's offerings?
Reputation and familiarity no doubt are factors that account for the continued success of the Maple Leaf.
Another popular choice, the Krugerrand, was the first gold bullion coin produced in an exact 1-ounce size (1967), making it ideal for trade. South Africa's first competitor was the Royal Canadian Mint (RCM) when the Maple Leaf was released in 1979.
Unmatched purity is an additional factor explaining the popularity of the Maple Leaf. Competitors such as the Krugerrand and American Eagle are 91.67% fine.
The RCM raised the bar with the Maple Leaf. Coins minted between 1979 and 1982 have a gold content of .999, and this spec was improved to .99999 fine.
March 17, 2009 | Posted in Maple Leafs | By J. Hawthorne
Comments Off on Canadian Gold Maple Leaf Purity
In 1982, Canada set a new standard in the purity of gold bullion. Before 1982 the Maple Leaf was .999 gold; after it was minted with .9999 solid gold.
The Royal Canadian Mint has maintained its tradition of leadership in the gold bullion industry by raising the bar once more, to .99999. Once again, history was made, this time in 2008. To honor this historic occasion, the Gold Maple Leaf was given a special design which includes a crosshatched pattern.
This purity won't replace the Mint's standard .9999 Gold Maple Leaf coins in foreseeable future, and is reserved for exclusive special editions produced to show off the Royal Canadian Mint's unparalleled achievements in coin minting. These coins are highly sought after by collectors and investors because of the purity of the gold as well as the low mintage.
Superior purity makes the Canadian Gold Maple Leaf one of the most sought after gold bullion coins in the world. However, it comes at a cost. The coins are softer and therefore more prone to damage than gold bullion coins such as the American Gold Eagle or Krugerrand. Combined with the milled edge and blank field surrounding the Queen, handling marks show up more easily.